There are many ways to import from Mac Mail to Thunderbird for Mac and Thunderbird for Windows.
But almost all of them don't work perfect with all kinds of databases. Picking the best method can turn out to be overwhelming. Find out here what you can do to import data with convenience.
Import from Mac Mail to Thunderbird
When you switch your email clients, often you also need to move your data as well. If all your emails are on the servers, you can add the email account to your new client. It will sync the data itself. However, many users have locally archived data (not on servers). And moving them to a new client can prove to be a very difficult job.
One such process is during Mac Mail to Thunderbird email client transfer. If you have folders saved locally on Mac Mail, you are gonna have to move them to Thunderbird and that can be difficult.
Even though both of the email clients support MBOX, it is still not simple. Because Mac Mail doesn't natively store your data in MBOX. You are going to have to manually do that.
Solution to Import from Mac Mail to Thunderbird
We have a better solution. If you want a large database to move and that which contains sensitive emails, the best way to do this is through a professional software tool that is built with necessary features and can process data elements with accuracy.
It is "Mail Extractor Max".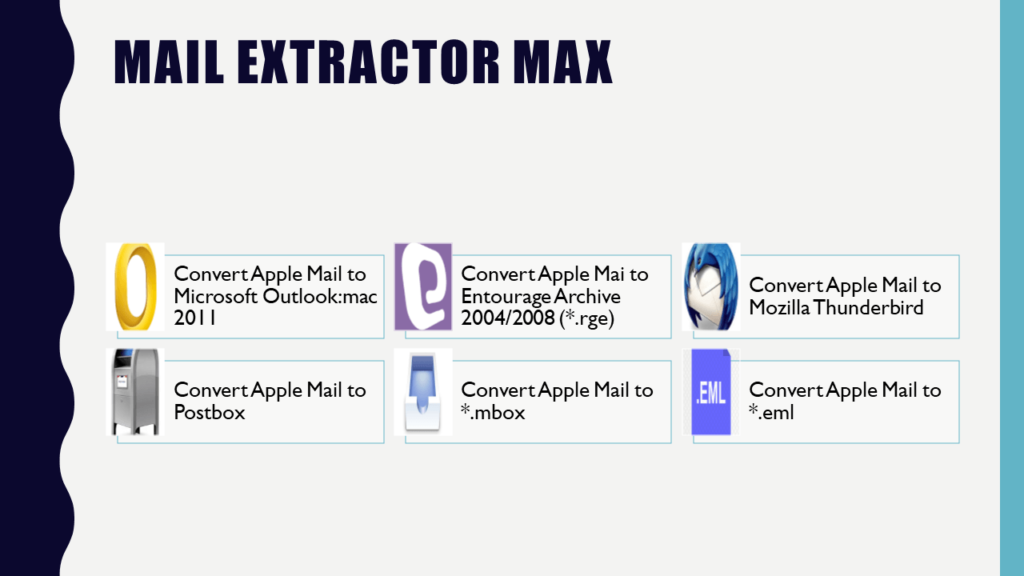 You can download the setup here. There are difference licenses for different needs. You can try it in a free version that works on ten items from each folder.
If before that, you want to know more about the features, here's a short list that will let you know the best parts of "Mail Extractor Max".
The Key Features
First, let it be known that "Mail Extractor Max" supports Data migration between Mac Mail directly (from the "Mail" folder) to Thunderbird. There's no need to look for any files (like EMLX or MBOX) and convert them manually one by one.
The tool allows to convert any backup databases that you may have stored. With this option, you have to specify the location of your database directory.
It is fully built around the support for handling the more complex non-English text characters found in Unicode standard, such as Chinese and Japanese (double-byte characters instead of single byte).
The tool also takes care your folder hierarchy and maps it on to the output Thunderbird files correctly without misplacing or messing up the arrangement. This is partly because it converts the database directly as opposed to converting the individuals files.
The interface is is very easy for beginners even though the tool has the power and the features for advanced migration projects. The friendly interface allows even the non-experienced users and beginners to import from Mac Mail to Thunderbird conveniently.
Free Trial To Import from Mac Mail to Thunderbird
You can download the free trial version using the link below. Using the tool directly is the best way to find out more about it and see how it actually works with your database.
Try it here: https://www.mailextractormax.com/
You can import from Mac Mai to Thunderbird (both Mac & Windows) using 'Mail Extractor Max' at zero hassle.