Mail to Outlook migration in Mac OS X is a complicated beast. Since these clients do not share a common file and there are no direct, official import-export features, users are left to their own to find ways of data transfer. If you recently switched to Outlook Mac from 'Mail' (the default email client in Mac OS previously called as "Apple Mail"), you must be looking for a quick and safe way to migrate your emails and other items.
Why it is Complicated to Move Mail to Outlook Mac
'Mail' uses EMLX files, one file for each message, and attachments are stored in EMLX file variants (EMLXPART), and other items are stored in other types of files. There are *.mbox file packages inside which are these EMLX format files, but such packages are not standard MBOX file. Even if they were, MBOX is not application in Outlook Mac, which only supports OLM and PST.
You can archive the data from 'Mail' to standard MBOX, but as said above, that wouldn't be helpful.
You can sync the local data in "Mail" to some email client/server (like GMAIL) that support IMAP protocol. And then use the same account in Outlook Mac to sync back the data into the client's database. As it may be clear by that description alone, it's a very time-consuming, complicated, and ineffective approach.
Therefore, neither client offering any official way for data migration between each other and lack of any common data file makes it a complicated task for basic users.
Converting "Mail" to PST using 'Mail Extractor Pro'
One of the smartest choices is through PST file, which is application in Outlook Mac, even though it is natively associated with Windows Outlook. By converting 'Mail' data into PST, you can use that file in both Windows and Mac versions of the client.
But such conversion is not so straightforward. There are third-party Apple Mail converters that claim to do it, but you will find them slow and they often do not take the complexity of emails into account and can end up with data loss. It is not uncommon to find many items missing such as images, attachments, Unicode text, links, etc.
This is why "Mail Extractor Pro" has left such an impressive mark upon users who are faced with this task. Its amazing interface coupled with advanced features make it a truly wonderful solution for this otherwise daunting process.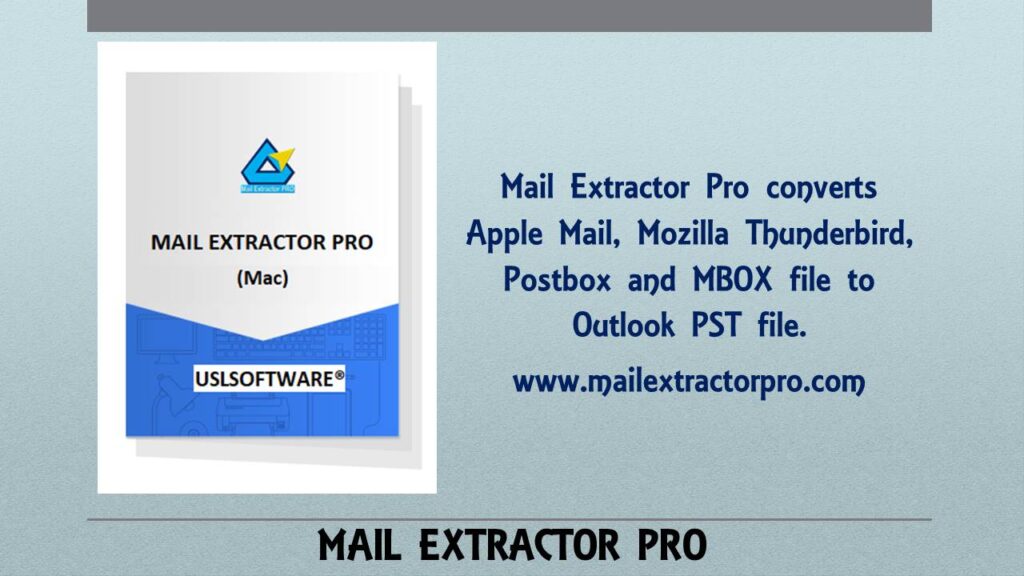 Note, It also converts mbox files (*,mbox). If you looking for MBOX converter, then try it today.
"Mail Extractor Pro" works differently than all others. The processing logic at its core is precise for dealing with all kinds of Apple Mail databases, so that no amount of information is missed or converted partially. You will find everything converted into PST with all the details and structure preserved. This especially includes Unicode content in headers, large and non-textual attachments, graphical components in emails, and folder hierarchy.
Users can also take advantage of features such as:
Splitting large PST file
Ignoring all empty folders
Detailed conversion log
Batch conversion
Get in touch with the official support of USL Software if you want to know more. Or, the better alternative is to jump in directly using the free trial version of "Mail Extractor Pro" and see everything working up close. You will most likely find it to be the best and most professional way of moving data from 'Mail' to Outlook in Mac/Windows. This absolve you of all those slow, painful, and time-consuming methods and instead opens up a much better path forward to get the data moved cleverly and safely.
You can download it from here: https://www.mailextractorpro.com/download-now/
Get it today to convert Apple Mail, MBOX, Thunderbird and Postbox Mail to Outlook for Mac & Windows.