Why and How to Change OST to PST
OST is an offline storage format for storing Outlook data in Windows. It is, in effect, a cache of your Exchange data. But due to few very common reasons, it often gets inaccessible. Users find their data stuck in OST files. It is mostly due to the fact that OST is linked with your email account and is not the standard data file for archiving.
Here is the most common scenario of such a case:
While changing companies, employees delete their original email account from the Outlook and keep the OST files with them. Under the wrong impression that all the data is backed up in OST. But without the original account that created the file in the first place, you cannot simply open or import that OST file in Outlook.
OST file can also get inaccessible due to some glitches or bugs in Outlook. Sometimes, due to unexpected shutdown of the system, the OST file may get all weird and won't let the Outlook open normally. It should be noted that in all such cases, the data inside OST remains intact; it's the fault in the Outlook and OST when together.
But whatever is the reason that made your OST file inaccessible in Windows Outlook, there's one excellent solution to overcome this situation. It's to change OST to PST, or to convert the data from OST files to PST.
It may sound a little intimidating for a general at first. And maybe it is if you consider all the ineffectual and sloppy software solutions that exist in bulk. But, with a professional OST to PST converter program that has been built by developers that know the email migration inside-out, and know how to make it user-friendly, it can be quite simple and straightforward.
How to Change OST to PST
Don't worry. We are not sending you on a mission to hunt for that perfect, professional tool that can help you change OST to PST file. Because we already do have one for you that will give you everything you need.
Namely, "OST Extractor Pro." As the name suggests, it extracts contents and information from OST files and let you save it into PST format. You can then easily import those output file (or files) in PST format into Windows or Mac Outlook (PST is also compatible with Mac Outlook).
"OST Extractor Pro" has quite a handful of features and abilities that sets it apart from the rest. Most tools to change OST to PST are very limited in their functionalities. Hard to use due to sloppy interfaces and have no support for beginners. "OST Extractor Pro" runs counter to all inefficient solutions. It has a simple and user-friendly interface, powerful algorithms to convert data cleanly without integrity loss. It has plenty of advanced features to make the job successful.
Some of its most notable features include: the ability to convert non-English text too (such as Chinese, Korean, and Japanese), keeping folder hierarchy same, keeping all email items preserved while changing OST to PST, converting large OST files and supporting bulk conversion too, option to split large PST files at any specified size, and so on.
You never have to worry about OST files that you cannot access the data from. USL Software has not simply made a file converter like all other conventional solutions, but have created a complete package and service that will make it easy and professional for you to change OST to PST files.
Free Copy to Change OST to PST
Download the trial copy to check out the features. You can activate the full version whenever you want.
[quick_offer id=532]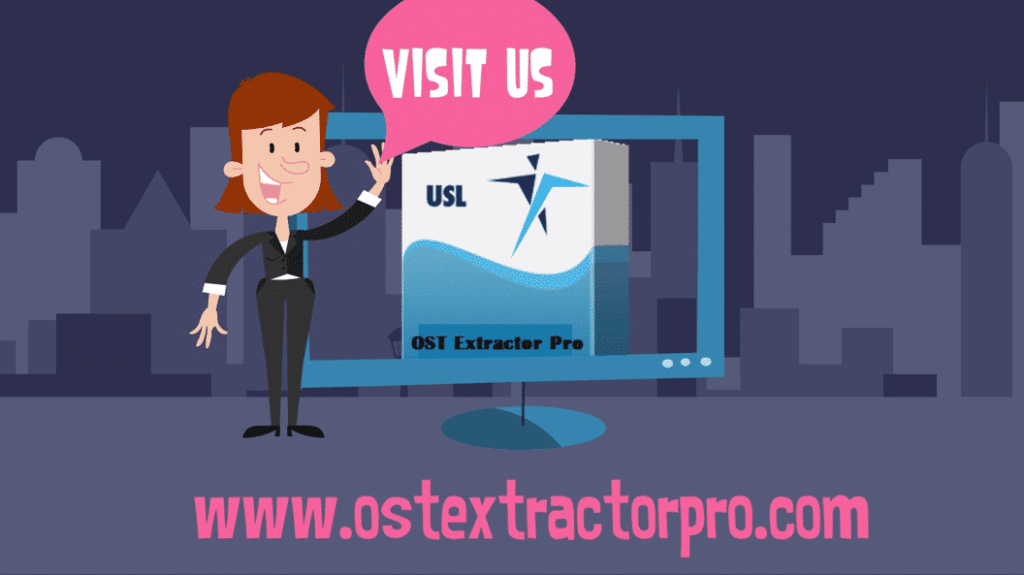 Related Article: OST to PST Converter Review
Try 'OST Extractor Pro' to change OST to PST file format.
Ways to Import OLM into Thunderbird
Thunderbird can do many things; importing OLM files is not one of them. It is a free, cross-platform, and open source email client from Mozilla foundation, and is primarily run by a large community. Thousands of plugins make it a versatile email program that many users have come to love. It's unfortunate that there is still no direct support for OLM files.
For those who don't know, OLM is a file that Mac Outlook stores or archives its data in. It's a proprietary file by Microsoft and serves many purposes.
Thunderbird, on the other hand, uses MBOX files natively (same with Apple Mail).
So, how can one import OLM into Thunderbird when the file format is not supported? Here are some of the ways that you can do that.
Manually Export Data Using IMAP
This approach doesn't require OLM files. You basically need a dummy email account that allows you to store your Mac Outlook data. So, first, you need an email server that provides the storage capacity equivalent to the data you need to import to Thunderbird.
Here's how you do this:
[wpsm_list type="check"]
Create a dummy email account that supports IMAP (Like Gmail)
Add that account into Your Mac Outlook client.
Drag your folders (that you want to import) into the newly created email account folder.
This will sync/upload everything to the servers.
When the sync/upload is done, add the same email account to Thunderbird.
Drag all the folders inside the account folder into any local folder inside Thunderbird.
This time it will sync/download everything from the servers into Thunderbird's local database.
[/wpsm_list]
This approach has long been discredit by experts as an efficient way to import Mac Outlook data into Thunderbird. It's not accurate, requires a lot of time, your internet bandwidth, and the data may even be fragmented during the migration. Not to mention that if you have a really large database to export, you might not be able to find an email server that allows that much data storage capacity.
Use an in-built feature of Thunderbird
Thunderbird has an in-built feature that allows you to import data from Mac Outlook, given that you have installed Mac Outlook on your Machine. If you just have OLM files, you cannot use this technique.
Another major issue with this is that you cannot use your latest version of Thunderbird. To use an in-built feature to import olm into Thunderbird directly, you need to have a Thunderbird version 31.8.
However, unfortunately, this too is an inefficient and outdated way to get your data imported. Thunderbird frequently crashes or freezes during the importing process. You might need to go back a version or two even further if it still doesn't work.
But the worst part is, often times Thunderbird won't appear to have stopped importing the data from Mac Outlook when in reality it has skipped a lot of files from Mac Outlook. This results in an incomplete migration that you may not even be aware of until you check each and every single email, contact, and calendar entry manually.
Convert OLM into Thunderbird
Both techniques mentioned above have a lot more problems than it solves. Most advanced users with expertise in email migration never even go close to such manual techniques because it always results in data loss, frustration, and a drop in their productivity.
That leaves us with one final solution – converting OLM into Thunderbird. This is a modern solution that is a result of some third-party converters.
Basically, these converters convert OLM files into Thunderbird files. However, how the conversion takes place and the efficiency of the output is dependent on your choice of the converter.
Do not worry. You don't have to dig up the entire internet to find a decent Olm to Thunderbird converter. We have just the perfect tool for you.
It's called "OLM Extractor Pro" and is developed by USL Software.
The way it works is simple – you simply load your Olm files, choose the folders you want to convert, check other settings for finer control, choose output as "Thunderbird," and click 'Convert'.
This will get the tool in motion. Within few minutes, all the data from Mac Outlook OLM files will be extracted into Thunderbird database that you can then import into Thunderbird.
It works perfectly in tuned with the general users' needs and demands. It has a simple interface that makes the job even easier, and the accuracy of data conversion is simply matchless. The tool is adept in converting even the smallest item of information into output files without any loss in the fidelity.
You can download the setup here: http://www.olmextractorpro.com. Use it in a free trial mode before getting a full version.
---
You May Also Like:
---
Try 'OLM Extractor Pro' to import OLM into Thunderbird Mail Database.
Looking to convert Apple Mail to Outlook for Mac? You've come to the right place.
You have been using Apple Mail for quite some time. But now it's time to switch to Outlook 2019 or 2016 for Mac. But you have no idea how to transfer all that data you accumulated over the years in Apple Mail.
Does that sound like you?
Don't worry. This post will help you migrate your data successfully from Apple Mail to Outlook for Mac.
There are few ways you can get it done. Let's take a look at them and also let's see which one would be best for you.
Convert Apple Mail to Outlook for Mac Using MBOX file Converter
Most common approach to convert Apple Mail to Outlook for Mac is through a MBOX file converter. These converters extract contents from MBOX files and convert them into either OLM or PST files.
NOTE* – It's a good thing that Outlook for Mac supports the native file of Windows Outlook – PST. Though, the native data file for Mac Outlook is otherwise OLM.
With a decent MBOX to PST or OLM converter, you can get your data migrated to Mac Outlook 2019 or 2016 version. But there are many problems with these converters. To begin with, they require MBOX file, which is an archived data file and therefore bound to have some data flaws. It also requires you to manually archive data to MBOX files in Apple Mail.
But the biggest problem of all with these regular converters is that they are not built with precise algorithms. You will most certainly encounter misplaced or missing components in your output files for Outlook for Mac. Most likely, email attachments, metadata, SMTP headers, non-English text characters inside emails, folder hierarchy, and images are not converted with accuracy.
Manually Convert Apple Mail to Outlook for Mac
Manual email migration method usually does not require any conversion. And by definition, they also don't require any third-party application. Therefore, it can be tempting to manually migrate data, but the results are often dissatisfying if not totally disastrous.
Thus, before I proceed with the steps on how to manually move data from Apple Mail to Outlook for Mac just for the reference purpose, it's necessary to point out that manual approach is the riskiest of all. And it has plenty of other drawbacks as well.
Begin by creating a new dummy email account that supports IMAP sync method. Preferably Gmail, but you can choose other providers too.
Add that Gmail account to Apple Mail.
Drag the folders that you want to migrate inside the Gmail folder. This will sync all your local data to the Gmail servers, provided the data you want to migrate doesn't cross the allowed space offered by Gmail. (15GB free for basic account)
Add the Gmail account now to Outlook for Mac.
Create a new folder in Outlook locally.
Drag the folders from Gmail to the local folder on Outlook for Mac. This will now sync the data from servers to the client and will be stored locally.
So, this is one way of transferring Apple Mail to Outlook for Mac without any third-party application. But as you can probably see, it's not the best solution. It doesn't work for users with large Apple Mail database. It requires internet connection and high data usage (both upload and download limit should be large). And it also takes time. But worst of all, you can find data fragmentation, especially if internet connection doesn't work properly during sync.
And now, as we have seen that MBOX file converters and manual approach are two solutions to migrate data, but are not the best.
The next section will dive into the ultimate solution that has no drawbacks. It doesn't lose the integrity of files, it's quick, it's accurate, and it's easy for anyone to perform.
Convert Apple Mail to Outlook for Mac Using "Mail Extractor Pro"
"Mail Extractor Pro" is a third-party application developed with an intention to remove all sorts of problems associated with email migration. Brought to you by USL Software, "Mail Extractor Pro" really does offer the best approach for safe migration.
It is not the regular MBOX to PST or OLM converter, though it offers that as an option for times when necessary. But it has a far better feature that can auto-load Apple Mail database automatically and converts it into PST files. It can also be used if you are moving away from Apple Mail to Windows Outlook. Basically, you can export your emails to any client that supports PST file.
"Mail Extractor Pro" is a sharp program with advanced algorithms and features that converts the complex email data with utmost precision. You wouldn't find anything missing or converted inaccurately. From your attachments to email formatting, from metadata to the email headers, and from folder hierarchy to non-English characters, it converts everything without any exception.
The features you need to know
It's also incredibly easy to use, thanks to the minimalist inspired design of GUI. The interface works in favor of beginners and less-experienced users and experts alike. Without diluting the performance or removing any functionality, USL Software achieved a simple interface that is intuitive and natural to use even for the first timers.
Other than that, it also features the following options, which add a great amount of flexibility you cannot find elsewhere:
Allows splitting of large PST files, set maximum PST file size manually
It allows manual folder selection after loading Apple mail with the help of filters
Allows custom/traditional MBOX to PST conversion (though not recommended)
Brief and detailed log report
Support for Chinese, Japanese, Korean, and virtually all other languages
Try free to convert Apple Mail to Outlook for Mac
There's also tech support round the clock that completes the entire "Mail Extractor Pro" utility. And makes it a whole software package instead of just another file converter.
You can get the free trial setup here and check out everything personally. Get it today to convert Apple Mail to Outlook for Mac and Outlook for Windows.